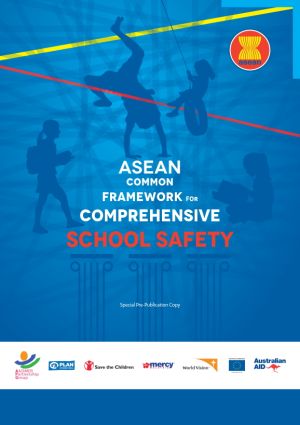 The ASEAN Common Framework for Comprehensive School Safety is extracted from the global Comprehensive School Safety (CSS) Framework, and it contains details to guide education ministries and National Disaster Management Offices (NDMOs) towards more intensified action on school safety.
Contextualised for ASEAN members to operationalise the global framework, this framework addresses the need for the development of a mechanism to effectively operationalise the CSS framework at the regional, national, and sub-national levels.
Overview:
The framework aims to achieve the same targets as with the Comprehensive School Safety Framework. To ensure certain uniformity of progress monitoring indicators for school safety, a set of monitoring indicators has been developed, which could serve as minimum standard for countries implementing the Framework, comprising:
6 output indicators to track the impact on school safety at the national using quantifiable data collected at school level
14 input indicators to track school safety interventions and impacts at school level.
In addition to discussing about the school safety in the ASEAN region, the document also discusses about framework, its key elements and the mechanisms of cooperation on the framework at national and regional levels.
Documentation Publication ASEAN Common Framework
download: ASEAN Common Framework for Comprehensive School Safety