February 21, 2017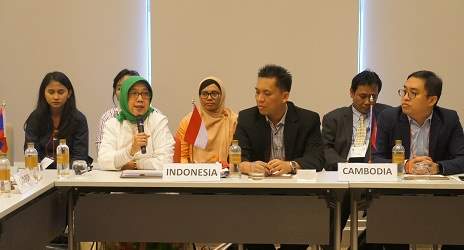 By Wanweena Tangsathianraphap, IFRC
On 14 and 15 February, key government officials from the Ministries of Education and National Disaster Management Offices of the 10 Association of Southeast Asian Nations (ASEAN) Member States and other active stakeholders came together at the 2nd ASEAN Regional Conference on School Safety in Bangkok. The Conference was co-organized by ASEAN, ASEAN Safe Schools Initiative (ASSI) Consortium and the International Federation of Red Cross and Red Crescent Societies (IFRC).
The meeting has reaffirmed the ASEAN governments' commitment to prioritise school safety through the implementation of relevant regional and global frameworks in Disaster Risk Reduction as well as to strengthen the collaboration among the working groups to continue in advancing Safe Schools in the region.
"As we enter the 3rd phase of ASSI implementation, it is timely that we mark it with a regional event such as this Conference, to provide a venue for all school safety stakeholders in ASEAN for knowledge exchanges and sharing of lessons-learned on comprehensive school safety programming," said Mr.Kobchai Boonyaorana, Thai Director Disaster Prevention and Mitigation Policy Bureau.