May 22, 2018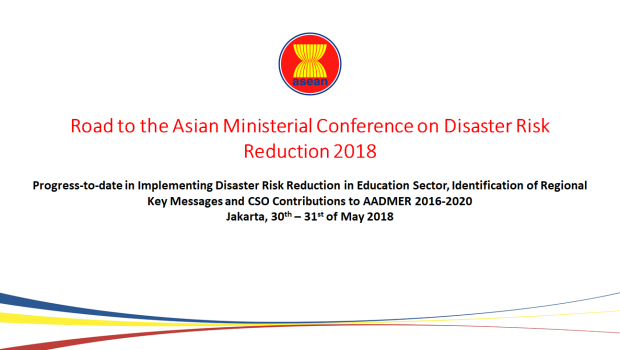 Progress-to-date in Implementing Disaster Risk Reduction in Education Sector, Identification of Regional Key Messages and CSO Contributions to AADMER 2016-2020
Jakarta, 30th – 31st of May 2018
The Asian Ministerial Conference on Disaster Risk Reduction (AMCDRR) is a regional multi-stakeholder platform that discusses the implementation of the Sendai Framework for Disaster Risk Reduction (SFDRR) and other emerging concerns and topics related to DRR. It established itself as an important vehicle to address the global and regional disaster challenges and provides an opportunity to address issues through cross-border leadership and solutions that can benefit the people and the countries of the region. Each Conference is co-organised by the host country and the United Nations Office for Disaster Risk Reduction (UNISDR) as a platform for Asia-Pacific governments to reaffirm their political commitments to implement the Sendai Framework. The last AMCDRR (7th) was organised in New Delhi, India, November 2016.
The 8th AMCDRR will be co-organised by the Government of Mongolia ad UNISDR on 3-6 July 2018 in Ulaanbaatar, the capital of Mongolia. Taking on the main theme, "Preventing Disaster Risk: Protecting Sustainable Development" with the following outcomes: Ulaanbaatar Declaration, 2018-2020 Action Plan of the Asia Regional Plan for Implementation of the SFDRR (ARP), voluntary commitments and updates by stakeholders. Featuring five substantive events, including Ministerial and stakeholder statements, technical sessions, featured events, DRR in Action, Public Forum, Video Contest on DRR, and Pre-Conference Events, it will present the five areas of opportunity: the conference will represent a key milestone progress against seven targets of SFDRR, provide a unique forum for those countries and cities that have not developed/updated their DRR strategies, provide the opportunity for the Government of Mongolia to lead on a key area of DRR for Asia and showcase DRR best practices as well as agree on an outcome that reaffirms political and voluntary commitment to DRR in Asia and renew/revise action commitments to implement and monitor the Sendai Framework.
Education is an important sector to governments in Asia-Pacific and the post-2-015 education agenda is defined by SDG 4 that seeks to 'ensure inclusive and equitable quality education and promote lifelong learning opportunities for all'. Linking up with the AMCDRR, the global platform for school safety, Worldwide Initiative for Safe Schools, a government-led global partnership for advancing safe school implementation was established as a response to the High Level Dialogue Communique at the 2013 Global Platform for DRR. The SFDRR for Action 2015-2030 itself emphasizes that DRR in Education is one of the global targets to reach by 2030 across its seven targets and four priorities of SFDRR.
The ARP 2016-2018 resulted from 7th AMCDRR in India reflects the advocacy of AADMER WP 2016-2020 and underscores that ASEAN as one of the main inter-governmental organisations in Asia shall build human and institutional capacity to carry out science-based trans-boundary risk assessment, develop common policies, tools and political commitments towards implementing and monitoring the SFDRR, fostering data, information and knowledge exchange in the region. The seven targets of SFDRR are also reflected in AWP 2.0, highlighting substantial reduction of disaster risks and losses while strengthening national and local DRR strategies, international cooperation and increasing access to disaster risk information and early warning system as primarily state's responsibility across sectors and all levels supported by other stakeholders. (Annex 1: Asia Regional Implementation Plan on SFDRR; Annex 2: New Delhi Declaration).
ASEAN Governments have been engaged at AMCDRR through panel discussions, thematic/side events relevant to school safety and disaster management, video competition as well as showcases of its DRR initiatives and ASEAN Safe Schools Initiative in particular. Through ASEAN Safe Schools Initiative, ASEAN Member States (AMSs) participated as part of the Children and Youth stakeholders group and submitted a voluntary statements since 2012, organised and participated in thematic events related to school safety and technical sessions on DRR, lobbied and advocated school safety in school safety outcome documents, and provided platforms and voice for children and youth in the ASEAN through national consultations.
Leading up to the next Conference, ASEAN Governments have actively participated and provided ASEAN/AADMER perspectives in the ISDR Asia Partnership (IAP) in Bangkok, Thailand and Ulaanbaatar, Mongolia in December 2017 and April 2018 as technical support mechanism and key regional governance to review on the Asia Regional Plan 2016-2018 for SFDRR Implementation (ARP 2016-2018). Also, country consultations with children and youth on Sendai Monitor being prepared and coordinated with country governments will be held in 5 of 10 ASEAN countries (Indonesia, Philippines, Myanmar, Viet Nam, and Cambodia).
Against this background, an 'ASEAN workshop: Road to AMCDRR 2018' comes at an opportune time as ASEAN is entering into its third year of AADMER WP 2016-2020 implementation by partnering with dialogue partners and different proponents including CSOs/NGOS/UN Agencies working on DRR issues in ASEAN. Organised by ASSI with the funding support from ECHO, this workshop will invite AMSs as well as relevant civil society organisations and coalitions to discuss their engagements in school safety and other relevant DRR issues prioritised in the AADMER WP 2016-2020 (climate change, resilience, community-based DRR, other vulnerable groups in DRR) and formulate regional strategies and key messages to be advocated in the AMCDRR 2018.