Since Cyclone Nargis devastated Myanmar in 2008, the Government of Myanmar made strong commitments to ensure safety in schools through the development of policies, plans and guidelines, and the establishment of multi-stakeholder working groups dedicated to the implementation of different aspects of school safety.
The Myanmar Action Plan for Disaster Risk Reduction 2009-20151 has been a primary instrument for advancing disaster risk reduction in the country. The plan sets clear targets for mainstreaming disaster risk reduction in education. The Ministry of Education and the Ministry of Social Welfare, Relief and Resettlement has also issued the Guidance on Mainstreaming Disaster Risk Reduction in the Education Sector, Myanmar – Rural Settings2. It includes structural, non-structural and pedagogical approaches, and opportunities for mainstreaming, including the incorporation of disaster risk reduction elements in school construction. The Disaster Management Law3 was enacted in 2013 with guidelines and regulations on its implementation provided in 2015.
The Ministry of Education has been leading the implementation of school safety programmes and activities. The forthcoming National Education Sector Plan 2016-2021 integrates the Comprehensive School Safety Framework (CSSF) with clear objectives, targets and programme activities for each of the three pillars in the framework.
In Myanmar, the Ministry of Education is responsible for disaster risk reduction in schools. The multi-stakeholder working groups established under the Ministry of Education are comprised of government offices, United Nations agencies, NGOs, professional associations and academic institutions. The Sub-Working Group on Disaster Preparedness and Response in Education is the main working group promoting the CSSF.
CSSF Pillar 1: Safe Learning Facilities
Multi-stakeholder cooperation in the development of National School Construction Guidelines
The Sub-Working Group on School Construction leads the development of national guidelines for the construction of safe schools that will serve as the standard. The guidelines will be finalised by April 2016.
The working group brought together about 20 organisations from government, UN agencies, NGOs and other organisations with expertise in school construction to develop these guidelines. This initiative, led by government, is being supported technically and financially by the ASEAN Safe Schools Initiative (ASSI) Consortium, Australia Aid, Swiss Development Cooperation, UN Habitat, UNESCO, UNICEF and USAID.
UNICEF Myanmar created child-friendly school standards in the design and construction of schools, and constructed 49 child-friendly model schools. They consist of reinforced concrete structure on wooden piles, interlocking brick with reinforced concrete sub-structure, and light weight construction.
CSSF Pillar 2: School Disaster Management
World Vision's Myanmar Disaster Risk Reduction Project strengthened the capacity of schools to conduct assessments, prepare plans and set up school disaster management committees.
Save the Children Myanmar developed child-led disaster risk reduction methodology.
Action Aid Fellows used a participatory planning process and developed village books, a disaster preparedness tool. The village books include: school profile, emergency contacts, school calendar, maps showing hazardous areas and safe places, list of assets and action plans. The books are endorsed by the Township Administration Offices and the head of schools.
Seeds Myanmar established a network of disaster risk reduction community centres that link schools and communities. A process for establishing these centres has also been developed that include: needs assessment, choosing centre location, building rapport with the community, and managing and operating the centres.
CSSF Pillar 3 : Risk Reduction and Resilience Education
Teachers' capacity development in promoting school safety
In 2009, a Disaster Risk Reduction Training Resource Pack was developed by the Sub-Working Group on Disaster Preparedness and Response in Education, and improved upon in 2010 and 2012. It contains materials for schools to conduct risk assessments, develop disaster management plans, conduct drills, and use for teaching and learning. A training manual was developed on how to use the Training Resource Pack.
Another set of Disaster Risk Reduction in Education Training Material, comprised of seven training modules, a glossary, an activity book and nine disaster awareness posters was developed.
These two sets of training packages have been used by INGOs and NGOs nationwide to train teachers, reaching over 10,000 teachers since 2009.
A School Safety Toolkit has been developed by ASSI to supplement these training resources with more concrete tools. This toolkit is adapted from the Toolkit for Building Disaster-Resilient School Communities in Southeast Asia developed by SEAMEO INNOTECH,4 and in line with ASSI's School Disaster Risk Management Guidelines for South-East Asia. This toolkit is intended for school principals and teachers, School Disaster Management Committees, Parent-Teacher Associations and the Myanmar Red Cross Society.
In developing the Toolkit, a series of meetings and workshops were conducted at the community level, with civil society organisations and government authorities.
Outline of the School Safety Toolkit
Module 1: Why School Safety and How to Use this Toolkit
Module 2: CSS Pillar 2 – School Disaster Management
Module 3: CSS Pillar 3 – Risk Reduction and Resilience Education
Module 4: CSS Pillar 1 – Safe Learning Facilities
Module 5: Addressing Cross-Cuting Themes and Implementing School Safety in a Sustainable Manner
The Toolkit, available in Burmese and English, has been piloted in 12 schools in Yangon and Rakhine States where teachers have been trained to use the toolkit by World Vision and Save the Children. Once finalised, the Toolkit will be disseminated to 500 schools in hazard prone areas.
Key Milestones for the Development of the School Safety Toolkit
Organised project launch workshop
Dra#ed the School Safety Toolkit
Piloted the School Safety Toolkit in 12 schools
Trained teachers using the Ministry of Education and UNESCO methodology
Toolkit endorsed by national disaster risk reduction stakeholders
Toolkit will be disseminated to 500 schools
Key Learnings and the Way Forward
Through the various school safety initiatives, many stakeholders in the education sector in Myanmar are now aware of the need to prepare for disasters and reduce disaster risks. Efforts should now focus on translating this raised awareness to policy changes and actions. However, the school disaster preparedness plans are not integrated into the community plans. It is important that the school safety initiatives emphasise the school-community linkages for more effective results and impacts. In the view of the incorporation of the CSSF into the forthcoming National Education Sector Plan 2016-2021 and finalisation of the National School Construction Guideline, the government also sees it important to integrate disaster risk reduction into the school curriculum, and the appointment of the MoE focal points at national and local levels is one of the recommendations to support the school safety implementation in the country.
[caption width="250″ align="aligncenter"]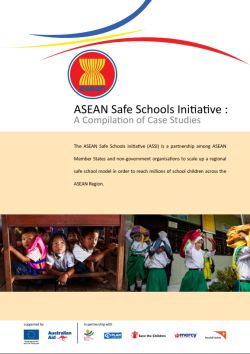 Download the complete ASEAN Safe Schools Initiative: A Compilation of Case Studies[/caption]