December 1, 2015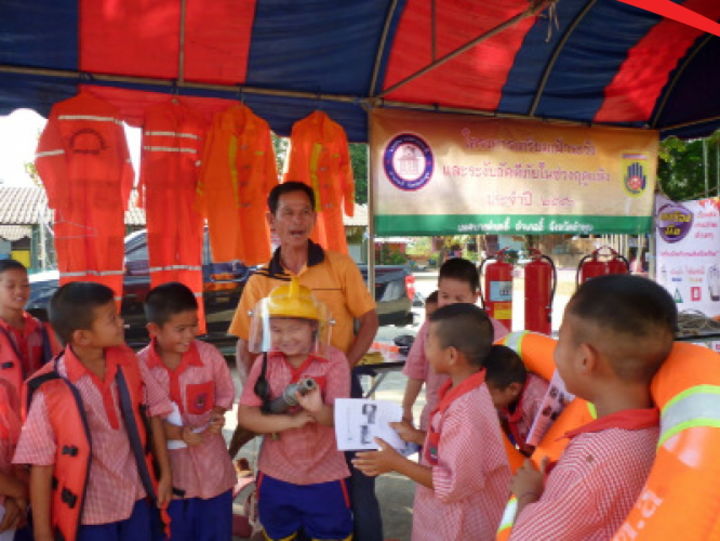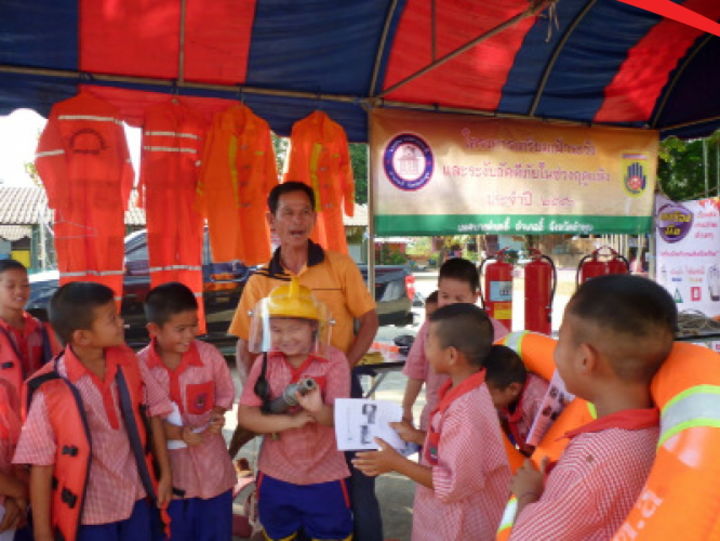 Context
In Thailand, the Office of the Basic Education Commission (OBEC), under the Ministry of Education is responsible for education from primary to high school level. Since 2007, OBEC has recognised school safety and has been working with the Department of Disaster Prevention and Management (DDPM) and other organisations to promote school safety. In 2011, Thailand committed to improve the safety of 32,000 schools as part of the United Nations One Million Safe Schools and Hospitals Campaign.
A standing order for mainstreaming disaster risk reduction in education has been issued that emphasised the production and dissemination of textbooks and teachers' guide, and the training of school teachers on disaster education. This is reinforced by the country's Compulsory Action Plan as stated in their Strategic National Plan for Disaster Risk Reduction 2010-2019, which states the provision of knowledge on hazards and disaster risk reduction at all educational levels.
Good Practices
Thailand School Safety Network Promotes Collaboration Among School Safety Stakeholders
The Thailand School Safety Network (TSSN) is jointly led by UNICEF in Thailand, the Ministry of Education and OBEC to promote coordination, collaboration and mutual capacity building among the network members, towards implementation of the Comprehensive School Safety Framework (CSSF) in Thailand. Since 2012, TSSN has convened bi-monthly meetings to provide updates on the work being done by the members, share information and resources available, and discuss programmes and activities that can be done collaboratively. One of TSSN's outputs is the Disaster Risk Reduction Teacher Manual that is now used by teachers nationwide.
Members of TSSN include: DDPM, OBEC, Ministry of Education, UNICEF, United Nations Office for Disaster Risk Reduction, Plan International, Save the Children, World Vision, Raks Thai Foundation, Right to Play, Thailand Red Cross Society, and International Federation of Red Cross and Red Crescent Societies.
CSSF Pillar 1: Safe Learning Facilities
World Vision Thailand supported the retrofitting of 12 schools in Nonthaburi, Ayudhaya and Pathumthani in 2012-2013. The schools were assessed for damages and needs for retrofitting were identified.
The Ministry of Education with TSSN are developing a checklist for the assessment of school facilities. The checklist is being designed for teachers and school directors to identify specific areas and facilities in the schools that are unsafe for students. This will help them identify mitigation measures and plan for actions in making school facilities safer for children.
CSSF Pillar 2: School Disaster Management
OBEC developed programmes to promote school safety through the 225 Educational Service Area Offices (ESAOs) established nationwide. In 2012, OBEC issued an order to school administrators to ensure the safety of students in schools. Guidelines for disaster management and education were developed that outline the responsibility of OBEC, ESAOs and schools, and the processes for risk assessment, action planning, evacuation drills, etc. Through the guidelines, ESAOs were encouraged to develop action plans on disaster risk reduction for educational services in their areas.
OBEC in cooperation with DDPM and the Japan International Cooperation Agency launched a project in 2011 to develop model ESAOs and model schools in the Northern, Central, North-Eastern and Southern parts of Thailand that adopts the CSSF. A series of workshops in the four regions were conducted on hazard mapping, action planning, organisation of evacuation drills, and development of teaching and learning materials. By 2013, over 1,000 educational officers and teachers benefited from the series of workshops.
The ASEAN Safe Schools Initiative is implemented in Thailand through World Vision Thailand starting this year through March 2017. Currently, World Vision and partners, which include the Asian Disaster Preparedness Center, DDPM and OBEC, are preparing the national baseline on school safety. The baseline aims to map out the risks profile of schools in Thailand and identify schools with high risks. It is expected to be completed by March 2016, after which ASSI will select 20 pilot schools to conduct disaster risk assessments and develop school disaster management guidelines. By 2017, ASSI intends to scale up the programme in partnership with OBEC, and apply the guidelines nationwide.
Earlier on, World Vision Thailand developed disaster risk reduction colouring books and guidebooks for students and for communities.
Plan International Thailand is implementing school safety projects in Thailand focused on raising awareness on and strengthening the disaster risk reduction capacity of children and teachers (e.g., risk assessment, action planning and child-led activities). Currently, Plan International Thailand is working in 29 schools in Ayudhaya, Pathumthani, Phang-Nga, Chiang Mai, Chiang Rai and Maesod Tak. From these experiences, Plan International Thailand has developed a school safety guideline that provides information on how to set up school safety teams, conduct risk assessment, and develop action plans. This guideline is being reviewed by OBEC with members of the TSSN, for possible adjustments and contextualisation for use in all schools in Thailand.
The Asian Disaster Preparedness Center enhanced the capacity of 15 primary schools to prepare for floods and develop their action plans for disaster risk reduction. The project was implemented in flood prone areas in Ayu'haya, Chinat, Lopburi and Nakornpanom.
CSSF Pillar 3: Risk Reduction and Resilience Education
In 2007, OBEC led the development of a national curriculum on disaster education, which is integrated into social sciences, science, and health subjects. School textbooks about disaster preparedness and management, and a teacher's guide were also developed to deliver the curriculum. DDPM offers technical assistance to OBEC in integrating disaster risk reduction into teaching and learning materials, and provides resource persons for training teachers and teaching students in schools.
DDPM operates in all 76 provinces of Thailand and has 18 regional centres. Each regional centre manages 4-5 provinces. Through these regional centres, DDPM provide awareness raising and capacity building activities for teachers and children in schools. Every year, budget is allocated to cover capacity building activities for about 3,600 children.
Save the Children has been raising disaster risk reduction awareness in the 2011 flood-affected schools in four provinces of Thailand. Child-friendly learning materials such as "Alert Little Tun" are disseminated, and teachers are trained in disaster risk reduction. Save the Children produced and broadcasted an animation of the Alert Little Tun in collaboration with Thai Public Broadcasting Service. Twelve episodes were made. In addition to this, Save the Children has been conducting fire prevention trainings with refugee camp committees, refugee communities and schools.
With support from UNICEF, Save the Children is planning to develop a school safety teacher training package that will be tested in five regions across Thailand. Targeted participants are 50 OBEC educators/teachers, who will serve as technical resources for CSSF implementation. With the training package being developed, the TSSN will also be strengthened through trainings and collaborative efforts.
UNICEF is planning to organise an expo to gather all Thai-based learning/training materials on disaster risk reduction, and provide training to ESAO administrators. UNICEF will also collaborate with the Department of Disease Control of the Ministry of Public Health and OBEC to implement a drowning prevention project in ESAOs. The project will target flood prone areas such as Sukhothai, Ayuthaya and Lopburi.
Key Learnings and the Way Forward
The TSSN promotes more effective programming. Knowing what needs to be done and what resources and expertise are available help OBEC leverage the pool of human, technical and financial resources.
OBEC and TSSN plan to develop a Framework for School Safety Implementation in Thailand. Capacity building activities as well as other needs in schools and ESAOs will be included in the framework.
An inventory of existing teacher and learning materials on disaster risk reduction, climate change adaptation in Thailand is being completed.
A mechanism to monitor and evaluate schools' level of resilience is being discussed. It is important to know what activities and programmes are being implemented, and what needs schools have in order to know the resources and assistance to be provided. It also helps in the prioritisation of programmes and resources.
OBEC also plans to review existing school designs against withstanding hazards and assess the structural integrities of schools, prioritising those in hazard-prone areas.